A Note from the President
Founded in 1985 by four rural hospitals, CMDI has grown significantly and today, serves 79 member-owner hospitals, their patients, and the communities which together, we are called to serve.
Since our inception 38 years ago, CMDI has been dedicated exclusively to the needs of our member-owner hospitals, bringing purchasing power, flexibility, and an unconditional commitment to service level responsiveness. At a time when capital preservation is critical for hospitals and health systems across the country, CMDI allows our member-owner hospitals to preserve that capital and deploy it for other strategic priorities. We provide turnkey and flexible operating arrangements to meet our members' imaging needs, doing so within a cooperative model in which ALL profits are allocated back to member-owner hospitals instead of a third party financing entity.
We also know that member-owner hospitals cannot take care of critically ill patients when a scanner is down and that is why, regardless of time of day or day of week, we pride ourselves in ensuring our members are back up and running as soon as possible, no questions asked—and the hospital will never see a bill for expensive after-hours service calls as CMDI assumes that risk. Our model has also helped many hospitals acquire a level of imaging technology which they likely would not have been able to achieve on their own. Flexible upgrade paths, responsiveness, and a member-first commitment is what we do, all in the interest of the patients and communities our hospitals serve.
There is no cost to join CMDI and we serve not-for-profit hospitals exclusively (including city, county, and district ownership). Our membership is comprised of both independent and system-based hospitals. Members earn an equity interest in CMDI based upon their pro rata utilization of services and semi-annual equity distributions are made based upon that respective equity position.
CMDI has distributed more than $57.1 million back to our members in the past 5 years alone.
Finally, having served as a former hospital CEO for 23 years prior to assuming my role as President of CMDI, I have experienced firsthand the benefit and value which CMDI brings. I would welcome the opportunity to visit further with you about our history, our philosophy, and our commitment—and to better understand how we can assist in meeting your imaging needs.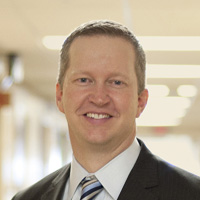 Chad Cooper
PRESIDENT & CEO